Some (such as myself) will argue that there needs to be a healthy balance between 'what you ask' and 'to whom you ask it', however one thing that will never change is that we're all searching for answers.
Why bother humans when we can just ask our phone where we should eat dinner tonight, right?
Levity aside, the reality is we all live in a "Google it" generation, and for better or for worse, we we've slowly allowed search engines to become embedded in our DNA.
Let's take a look at some of the best search engines in 2023.
Google
With nearly 91% market share, Google completely dominates the search engine game. It's kind of scary to think that a search engine has so much control, but we've fed the beast ourselves.
If you look at the bottom of the graph below, you'll see the rest of Google's competition fighting for the breadcrumbs.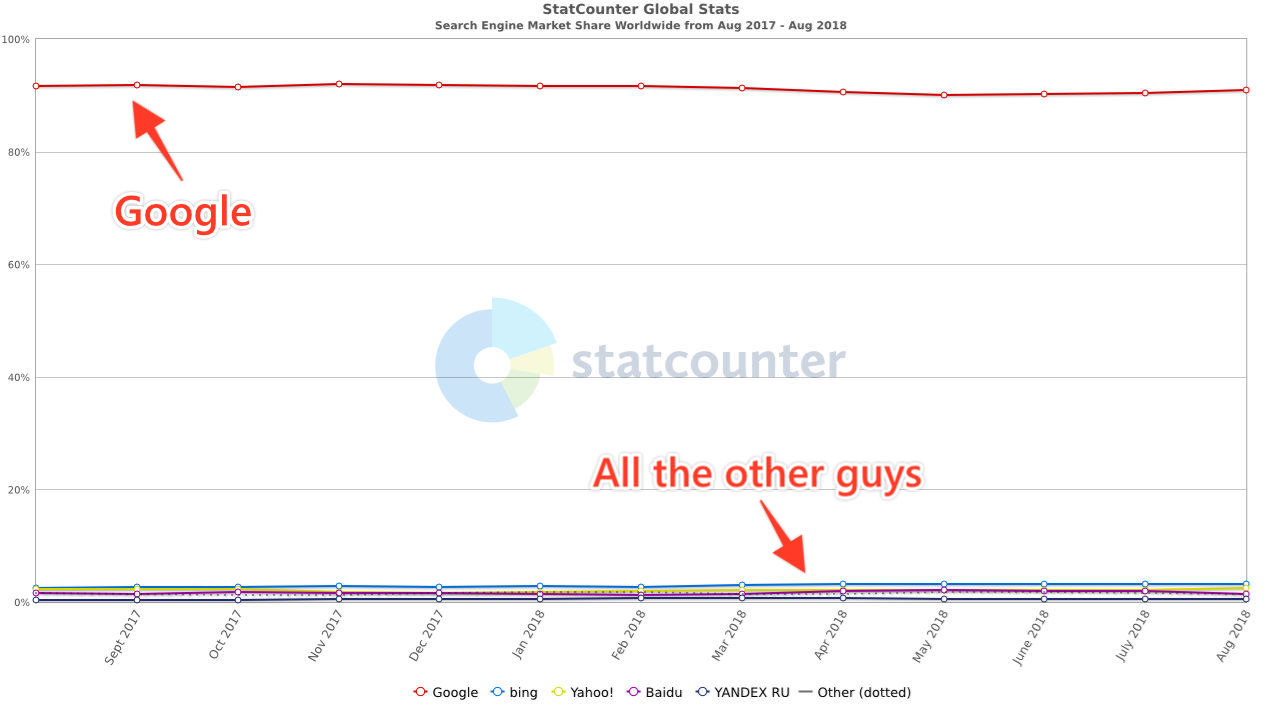 The fact of the matter is this didn't happen by accident. Google knows exactly what it's doing, how it's doing it, and why it's doing it.
YouTube
What's big brother without little sister, YouTube.
While Google does it's part in helping us find exactly what we're looking for, as of now the majority of the SERPs (search engine results page) are shown as text.
We are now however seeing more results that are coming back as images, answer boxes, and more visual elements such as videos, and obviously this is where YouTube comes in.
For all of us visually inclined people that just hate to read (and multi-task), we just go over to YouTube, type in what we're looking for, grab our coffee, and just kick back and take it in.
Amazon
When to comes to product search, Amazon is the place to go for consumers.
Nearly 52% of people go to Amazon when they're looking to buy something.
Not only is this chipping away at Google's e-commerce market share, but the fact that Amazon has an app that allows you to use with voice search only makes it easier for people to buy things when they're on the go.
I know that anytime that I'm out shopping, I tend to always pull out my phone just for the hell of it because I'm curious to see how much Amazon has a product for. About 75% of the time I actually end up buying it from Amazon.
That's powerful.
Facebook
While Facebook is known to be more of a social media platform, there have been studies from analytics providers that has shown Facebook has grown to become a major player on USA mobile devices.
In states like Washington, Rhode Island, and Montana, it actually makes up for nearly 13% of mobile browser events. The reason this is important is because it shows that people are using Facebook as their primary point of consuming online content before going to the more traditional search engines.
Whether it's connecting with friends or reading the latest news, Facebook market share in the mobile browser arena is still small compared to other browsers. Safari claims around 58%, Chrome has about 32%, and Facebook has a little under 9%.
Bing/Yahoo
I'm gonna go ahead and put Bing and Yahoo in the same bucket of search engine because Bing's search algorithm powers Yahoo which essentially means they give you the same results.
When it comes to SEO, you could almost toss both of these out in comparison to Google in terms of traffic quality.
Keyword Density
For example, keyword density is a non-issue. You can add your keyword 500 times if you want on the same page and it's not going to move the needle, whereas with Google you have to be more methodical and not over optimize for keywords because you will for sure get penalized for trying to game the system.
Location
Another difference with Bing/Yahoo is that they give you very different local search results when compared to Google.
Google takes into account the authority of a website, while Bing adds more weight to your location, thus serving up results that are within your proximity more.
To give you an example, if you're looking to get your car tires changed, Google will serve up something like Discount Tire, while Bing/Yahoo may show you more mom and pop businesses down the street from you.
Notable Mentions (aka Nice Try)
Ask
AOL
Baidu
Wolframalpha
DuckDuckGo
Internet Archive
Yandex
Bottom Line
If you're going to invest marketing dollars, these are the guys you want to play with.